"Am I willing to give up what I have in order to be what I'm not yet?"
—M. C. Richards in Centering
Preview Party Next Saturday
We're Celebrating the Art of (a) Change
Get your tickets now for Opening Weekend!
It was 10 years ago this fall that I held my first writing circle in Jacksonville as part of my certification to become a facilitator in the methods of Women Writing for (a) Change®.
And I was, indeed, a woman writing for (a) change! Recently divorced, struggling with my new identity as a single mother, moving away from my role as a corporate consultant, I was a woman writing the new story of my life—as cautious as a butterfly emerging from its chrysalis.
Here's the Thing About Butterflies
The funny thing about butterflies is, they have to struggle through the birthing process. The edges of the cracked chrysalis squeeze the excess moisture out of the wings as the butterfly struggles to emerge. In other words, without the pain, they cannot fly. But the sweet freedom on the other side is always worth it.
So, 10 years later, here we are: A thriving writing community, stronger for our struggles, individually and collectively. We've grown: from eight women in our very first official circle in January of 2014 to hundreds and hundreds of folks who have entered the safe space of our circle and emerged, like butterflies, into the garden of our community.
My, How We've Grown and Flown!
We've expanded our circle to include art exhibitions featuring women artists, an annual anthology of women writers and artists, community events featuring women leaders, an internship program for teens and college students, a leadership development program for women, and a book festival celebrating regional women authors—not to mention many community collaborations with groups like Yellow House, the Jacksonville Public Library,Bab's Lab, See The Girl, The Cummer Museum, and many, many others.
Throughout the process, I personally have struggled, and grown, and changed; lost people, made mistakes, learned hard lessons. But I know it was all necessary for my growth. As a friend once told me, "Let the pain inform you." And that's my hope, for myself, and for all of us.
Come Start a Year of Celebration With Us!
To begin a year of celebrating, we're kicking things off on Friday, Oct. 20, with the Preview Party for our latest exhibition: Metamorphosis: The Art of (a) Change, featuring 10 artists celebrating 10 years of personal and collective transformation. Exhibit curated by Tatiana Phoenix, featuring Sharon Goldman, Elena Ohlander, Anna Miller, Marsha Glazière, Nykia Jackson, Barbara Hionides, Maya Freeman, Julissa Marie, Deja Gee, and Dimelza Broche. Won't you join us? The next day, Saturday, Oct. 21, you can attend Opening Day from 1-3 p.m. You can get tickets for both events HERE and below.
Two More Classes This Fall: Sign Up Now!
And we've got two more classes to participate in this fall! See below or LEARN MORE HERE. All genders welcome for these two classes.
—Jennifer Wolfe, Executive Director,
Women Writing for (a) Change Jacksonville
p.s. don't miss our news updates, below!
Upcoming Events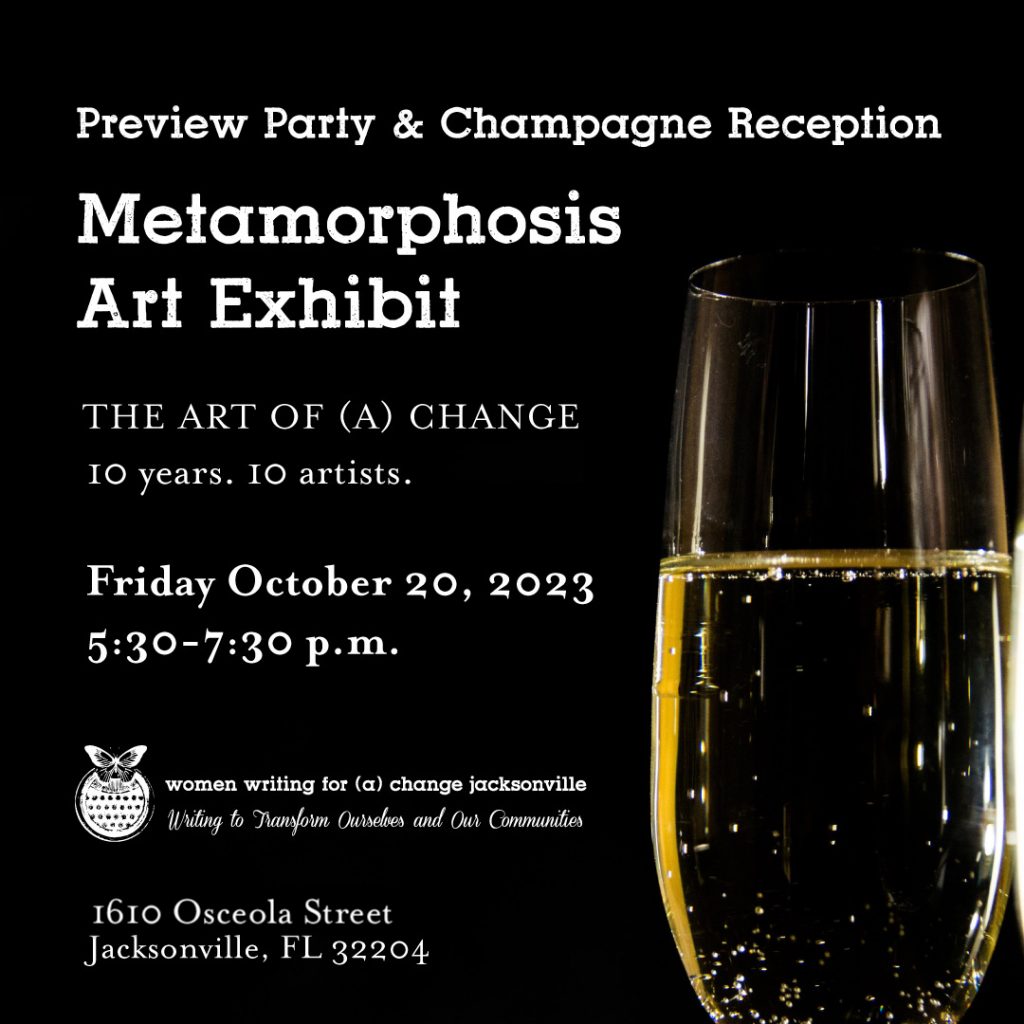 What We've Been Up To Lately
Gardening Circle At the Library
Final drop-in class tomorrow!
What a joy to gather as writes AND gardeners! Facilitated by Shani Hall, Board President (front), as part of her practicum to become a certified facilitator for Women Writing for (a) Change Jax. Still time to join HERE.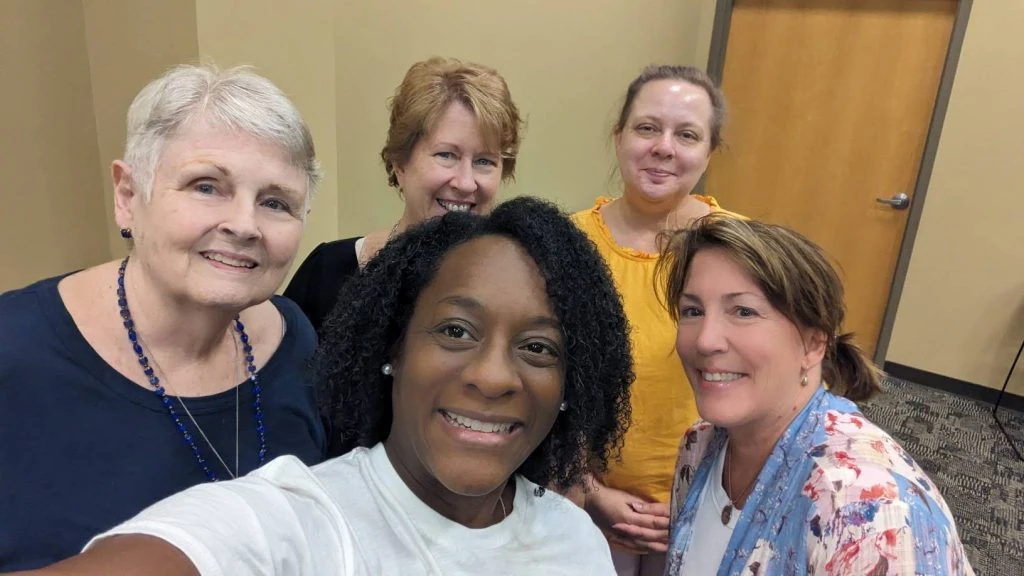 Artist Circle for Featured Artists
It's not just about the art, it's about the connection.
We gathered last night surrounded by the art of METAMORPHOSIS to absorb the art on the walls, get to know each other, and explore our individual transformational journeys. It's so good to understand each other on a deeper level as we share our lives, in writing.—JW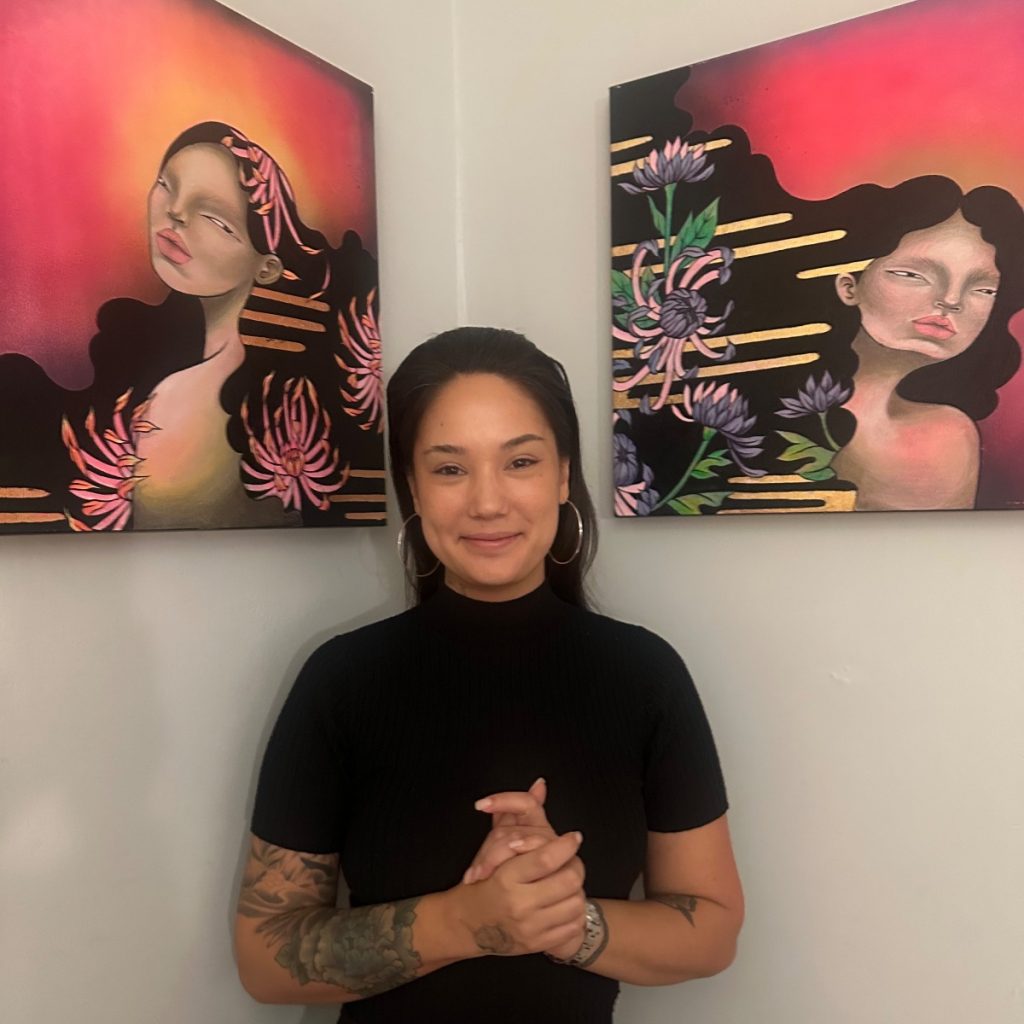 Jax Public Library Book Festival
A beautiful literary event in Jax!
We were so glad to support the JPL and many authors, literary organizations, and NYT best-sellers at the Book Festival earlier this month! We met so many people and were proud to help bring 10 authors to the festival with us. If you missed it…see you next year!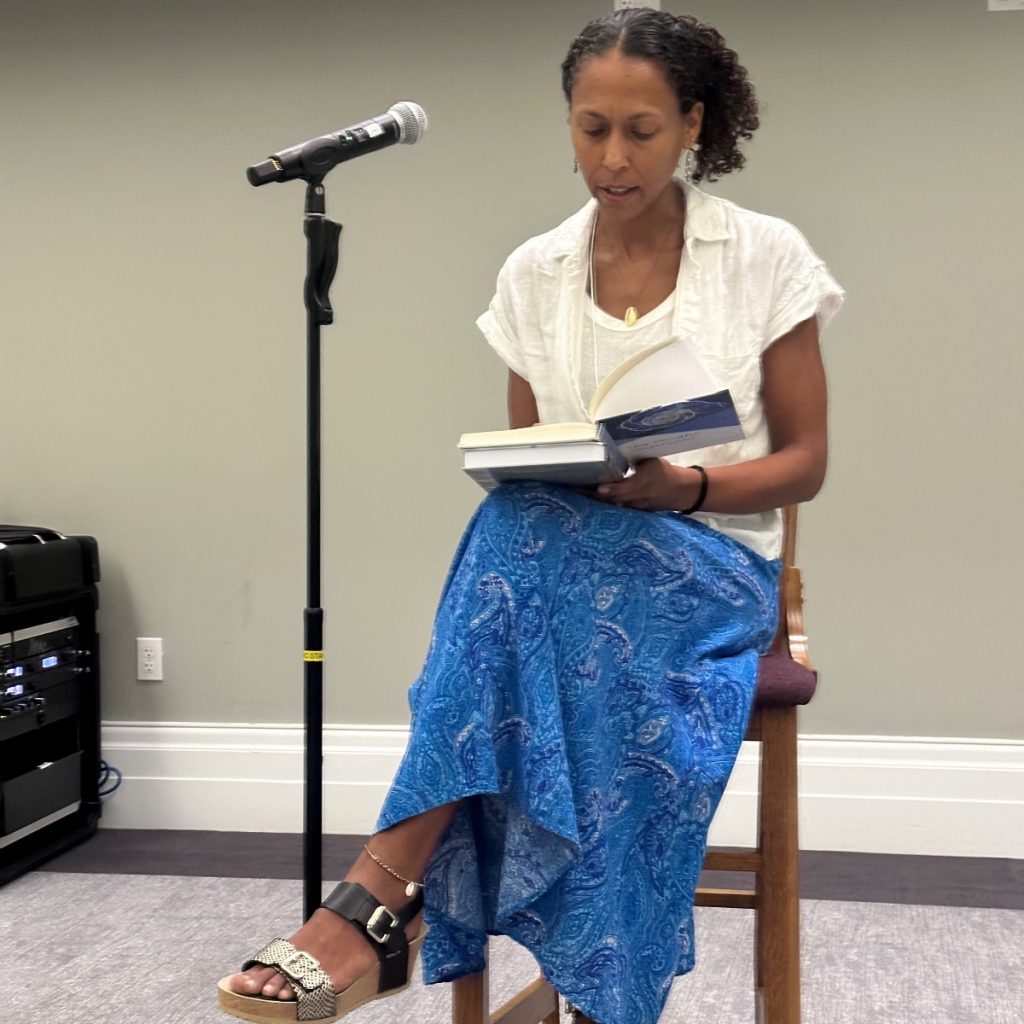 The Last Word
"Just when the caterpillar thought the world was over,
it became a butterfly."
―Zhuang Zhou