"The river is immense, and it has the capacity to receive, embrace and transform. If our hearts are big, we can be like the river."
—Thich Nhat Hanh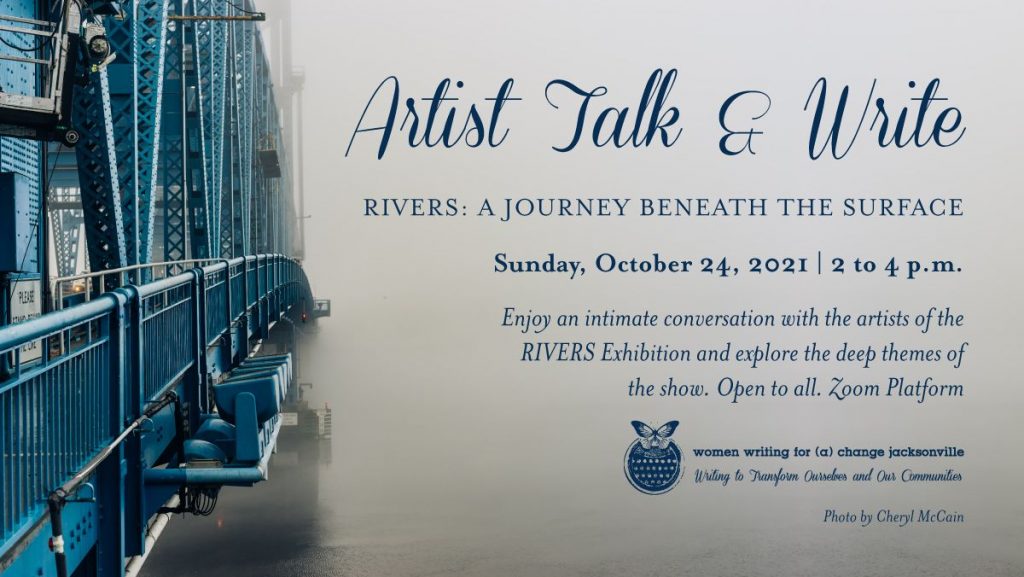 JOIN US THIS SUNDAY VIA ZOOM
Meet the Artists of the RIVERS Exhibition
Take a deeper dive into the RIVERS art— and the women who made it—this Sunday.
Dear Friends:
Celebrate the art—and artists—of rivers! We're hosting an artist talk for the RIVERS Exhibition this Sunday, and we'd love to see you there. Join us for Artist Talk and Write: RIVERS Exhibition, October 24, 2021 at 2:00 PM. Zoom platform.
Meet the Artists, See Photos and Videos from the Exhibition
A sparkling variety of our artists will speak, including Cheryl McCain (Obscura Lux)—who took our cover photo of the Main Street Bridge in Jacksonville—plus Tatiana Kitchen, Abby Howard Murphy, Toni DeWitt, Elizabeth Barakah Hodges, and our curator, Mallory O'Connor. We'll also watch a video overview of the show, plus another video featuring folk artist Alyne Harris of Gainesville. We might also catch a glimpse of a mysterious water creature called Sirena, brought to you by artist Margaret Ross Tolbert.
You'll have a chance to write a little AND ask questions of the artists. Zoom platform to make it accessible to all. Open to all genders.
We hope you're able to join us!
We've Been Busy As Usual this Semester! Get the scoop.
Meanwhile, we've had a wonderful fall semester with our classes and programs so far; see bottom of the newsletter for photos and an update on all that we've been up to lately! Thanks to everyone for your participation and support.
Cheers,
Jennifer Wolfe, Executive Director,
Women Writing for (a) Change, Jacksonville
p.s. Did you see our guest editorial in the Times-Union?

ARTIST TALK + WRITE THIS SUNDAY
WINE, WOMEN, and WORDS UP NEXT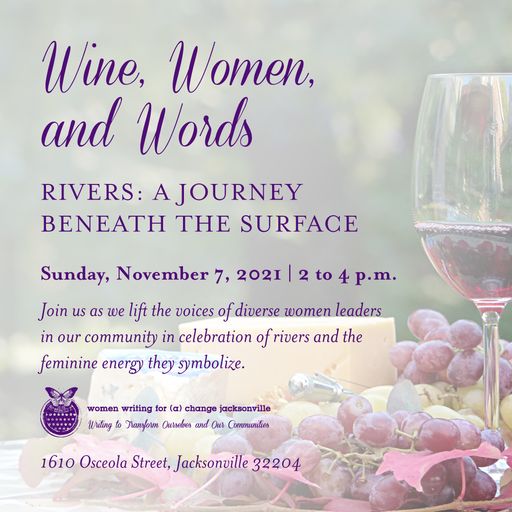 Women are Making a Difference: Here's How
Enjoy wine and a light refreshments at this special in-person event featuring Nancy Powell, Executive Director of Scenic Jax and leader of the Riverfront Parks Now initiative, along with artist and activist Abby Howard Murphy and several others. Self-guided tours of the RIVERS Exhibition will be available before and after the speaker presentations, and we'll have art and journals and books for sale!
WHAT WE'VE BEEN UP TO LATELY
We've Been Down by the Riverside
After a fabulous Preview Party on. Sept. 24 featuring Riverkeeper Lisa Rinaman and artist Tatiana Kitchen, we had a terrific Opening Day for the Rivers Exhibition on Sept. 25, with more than 100 people coming to the show over the two-day period. We also heard from curator Mallory O'Connor, artist Allison Watson, and our high school intern, Su-Ertekin-Taner. Since then we've launched our fall classes on Zoom and in person with faculty Karen Allen and Marilyn Jones, conducted a workshop on gun violence for the Jax By Jax Literary Arts Festival, and taken several walks down to the river for writing and contemplation. A team of women led by managing editor Dakota Boyer is also producing our annual anthology, to be published in early December. Appropriately, it's titled, (a) river rising: Anthology of Women's Voices.—JW
The Last Word
"A river is a flow. The ancient Greeks believed that the whole world was in circled by the great River Oceanus, which was the source of all water on earth. This is where the word ocean comes from. While we now know this isn't the case, it is true that all the water in the world is part of a gigantic system that existed long before we were born and will continue to exist long after we are gone. Water is ever-changing, flowing back-and-forth between oceans, seas, lakes, rivers, clouds, rain, and ground water. It flows to every tree, fish, and insect. It flows through you and me."
—Lithuanian illustrator and storyteller Monika Vaicenavičienė in What Is A River? (excerpt)
Read the full newsletter here.