"I would love to live like a river flows,
carried by the surprise of its own unfolding."
―John O'Donohue

LAST CHANCE TO REGISTER
Surprise yourself with the joy of writing—and community—inspired by art!
Join us for our next writing circle starting Thursday + get tickets now for the RIVERS Preview Party and Opening this weekend!
Dear Friends:
We've got a few tickets left for our writing circle starting this Thursday, and more for the RIVERS Exhibition this weekend, but they're going fast! Hope you'll join us for one of three fabulous events happening this week.
RIVERS of Art Writing Series Starts this Thursday
Join us for this 3-week mini-series over Zoom exploring the art and artists of the RIVERS Exhibition. Each week, a different artist will join us, and we will write to the themes inspired by the art. Enjoy the intimacy of writing directly to the art as you see it on the screen, and gain a deeper appreciation for both the art and artist. Featuring the work of Allison Watson, Barbara Gibbs, Tatiana Kitchen, Dima Kroma, Margaret Ross Tolbert (whose art is featured on the poster), and others. Register HERE.
RIVERS Preview Party this Friday
Riverkeeper Lisa Rinaman will be our featured speaker at this mostly outdoors Preview Party and Fundraiser Friday, along with featured RIVERS artist, Tatiana Kitchen. Enjoy champagne and light appetizers as well as a private tour of the RIVERS Exhibition. Be among the first to see the RIVERS Exhibition and the art, journals, and anthologies for sale, and learn how you can help lift the voice of the river—and women—in Jacksonville.
RIVERS Exhibition Opens this Saturday
This fall, in a collection curated by author/art historian Mallory O'Connor, we've lined up a diverse group of local and regional women artists offering their view of rivers, river life, and our relationship with water. Striving for depth, we've also created many other opportunities this fall for you to engage with women artists, writers, environmentalists, and community leaders who will all contribute their varied perspectives on this undervalued and powerful force of Jacksonville and beyond. Join us Saturday for our Sidewalk Hospitality, mini artist talks, and community connection.
Hope to see you soon. Register for all classes and events HERE. Please bring your mask.
Cheers,
Jennifer Wolfe, Executive Director,
Women Writing for (a) Change, Jacksonville
Writing Class this Thursday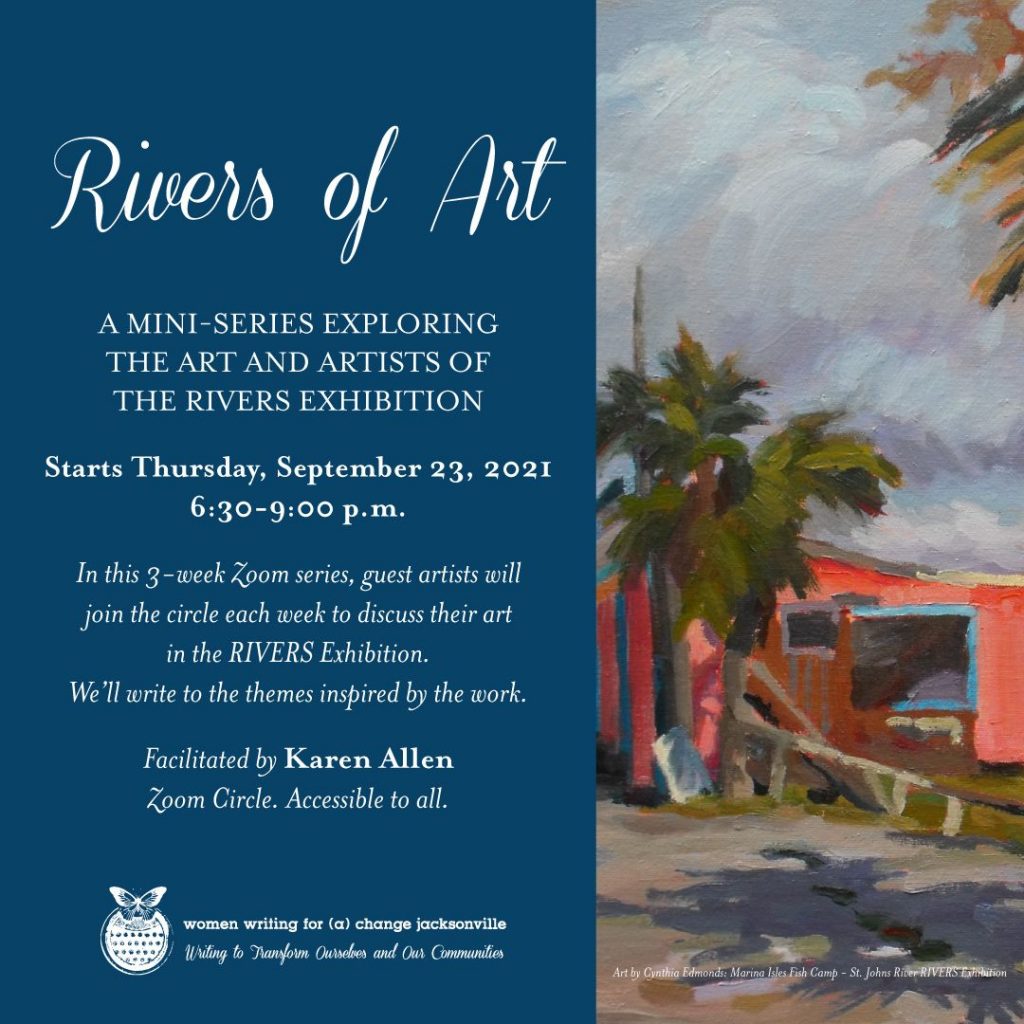 Preview Party this Saturday
Art Opening This Saturday
WHAT WE'VE BEEN UP TO LATELY

Gathering Again in Community, Carefully!
We've enjoyed getting together face-to-face again though we're exercising caution. We were so pleased to see Tatiana Kitchen in person when she dropped off her art, and to welcome our newest college intern, Jasmin Sotto. Curator Mallory O'Connor brought Francis all the way from Gainesville to help hang the show, and participants from our Sampler and Fall Series classes all got the benefit of seeing their work when they arrived for classes this month. We look forward to sharing it all with you this Friday and Saturday! Stay safe, folks. See you soon!—JW
The Last Word
"My landscape paintings of the beautiful wild places of North Florida reflect my love of the natural beauty of the woods, lakes, beaches and lakes that surround us—but are too often invisible to us. I have a spiritual connection to these sacred places. As a lifelong resident of north Florida and a fifth-generation Floridian, I've seen these places disappear at an alarming rate. I hope that my work will inspire conservation so this natural beauty will be more visible and considered a treasure to be preserved."
— Allison Watson, Artist Statement, RIVERS Art Exhibition